Fire and Smoke Damage Restoration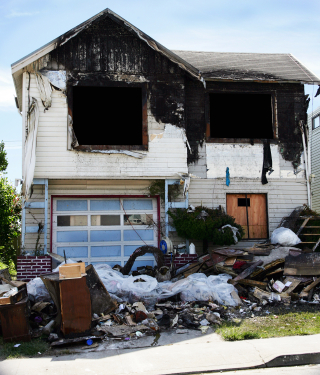 When your home or business is caught in a fire, the aftermath can be devastating. Depending on the scale of the fire, the damages can seem overwhelming, and the stress of the ordeal can send you into a state of despair.
If your property becomes the victim of a fire, contact Trebor Disaster Restoration. We offer a full range of insurance restoration services including fire damage repairs. As a licensed General Contractor that has been in business since 1983, you can rest assured that Trebor can take care of the repairs your home needs to overcome the damaging effects of a fire. Going through a home disaster is hard enough. Let the experts at Trebor Disaster Restoration take away some of the pain and frustration you are experiencing and let us provide you with the quality property damage restoration services you need to get back on your feet.
Trebor Disaster Restoration Services:
Water Leaks
Flooding Damage Restoration
Smoke Damage Restoration
Fire Damage Restoration
Mold Remediation
Complete Property Damage Restoration
We Provide Fire and Smoke Damage Restoration Services in the following areas:
Miami-Dade County
Broward County
Monroe County
Palm Beach County
Why Should Your Hire Us for your Fire and Smoke Damage Restoration
You can be assured our certified technicians, using state of the art equipment and technology, will work quickly to clean up your damaged properties and return your home or business to its pre-loss condition. We offer insurance restoration services to help you get through any disaster your home or business faces, from fires to floods. Trebor Disaster Restoration technicians have received specialize training and are certified in water, mold, fire damage and smoke removal from The Institute of Inspection Cleaning & Restoration, Association of Construction Industry Certified Professionals and The American Drying Institute.
Fire related damage to your home or business can be overwhelming. It's bad enough that cleaning up from a disaster can be stressful and time consuming, but settling a claim with your insurance company can also add to the stress. At Trebor Disaster Restoration, we take the hassle out of dealing with your insurance company by working with them to get you the most money possible for your claim.
Recent Articles
If you are looking for a home remodeling, commercial remodeling or insurance restoration contractor then please call 305.254.9222 or complete our online request form.